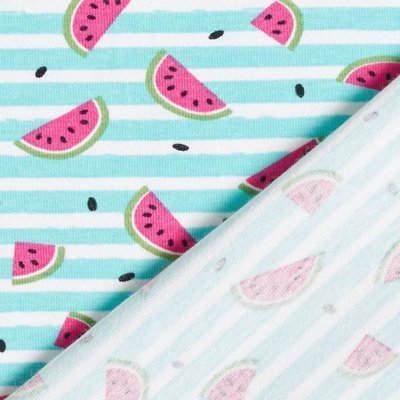 Cotton Printed Jersey - Melon Stripes
€10.00
Cotton Printed Jersey - Melon Stripes
22.00
€5.00
/0.5 m
VAT included
Color:
Multicolor
Theme:
Fruits and Vegetables
Width: 150 cm
Weight: 200 gr/sqm
Composition:
95% cotton + 5% elastane
Product description
Fabric type: 100% high-quality jersey cotton printed with watermelons. Wash at 30 ̊ C with similar colors, iron warm, do not bleach.
Use for: dressmaking, leggings, hats, t-shirts, etc
Minimum order is 50 cm/pattern, fabric is cut in intervals of 50 cm. If you wish to order 1 meter you will receive 1 continuous piece of fabric.
Lasa un comentariu sau pune o intrebare