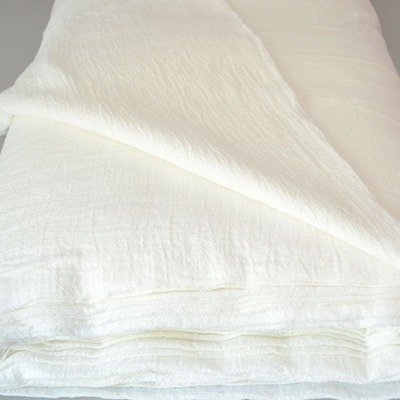 Cotton Gauze Nastasia White
€5.91
Cotton Gauze Nastasia White
13.00
€2.95
/0.5 m
VAT included
Color:
White
Theme:
Folk
Width: 120±5 cm
Weight: 85 gr/sqm
Composition:
100% cotton
Product description
Fabric type: Classic cotton gauze, the lightest version available, ideal for manual embroidery. A gorgeous fabric, inspiring, airy and soft, bringing tradition and comfort at a premium level. 
Embroidery: manual/mechanical
Use it for: traditionale romanian blouses (Ia), blouses, dresses, skirts, shawls, baby items and clothes, window curtains, etc.
Touch: smooth-crepe. The crinkled touch can be smoothed by steaming and ironing, and will be restored after every wash.
Maintenance: Manual/automatic wash, with similar colors, up to 90°C. Iron at cotton temperature, preferably by steaming.
Lasa un comentariu sau pune o intrebare